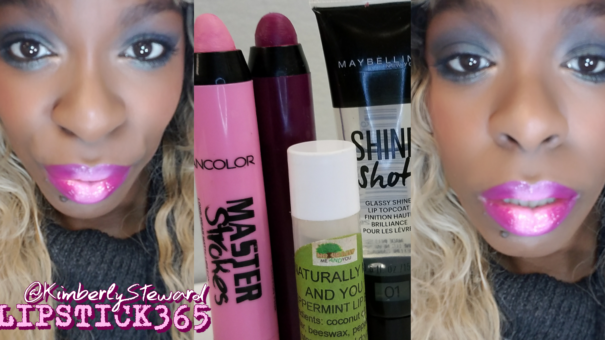 #Day4 is titled #Runway. This lippie was inspired by makeup I did for New York Fashion week in February, 2016.
The Products:
– Naturally Me And You Coco Mint Natural Lip Balm
– KleanColor Master Strokes Long-Wear Matte Lipstick Magenta Showers & Chiffon Pink
– Maybelline Clear Shine Shot
The Steps:
First I based my lips in Coco Mint Lip balm. Wait a minute or so before moving to the next step.
Apply Magenta Showers to the outer third of your lip on both sides leaving the middle empty.
Then I filled in the middle of my lips with Chiffon Pink. I made sure not to mix the two colors.
I pressed my lips together to smooth color.
Next I lined just my top lip with Magenta Showers and pressed my lips together again to blend the top line to the bottom.
I put the clear Shine Shot on a lip brush and applied over the Chiffon Pink in the middle. I was careful not to touch the outer thirds. When I pressed my lips together again, this naturally spread the gloss to the outer thirds without bleeding the color.
I wiped my brush, put the clear Shine Shot to the clean side and applied it to the top and bottom of outer thirds of my lip. You can apply to just the top or bottom and press your lips together if you don't want the gloss to be so heavy. And and there you have it!
Stay tuned to my Facebook, SnapChat, IG, Twitter and Periscope for my live Broadcasts where I go through the steps to recreate #Lipstick365.