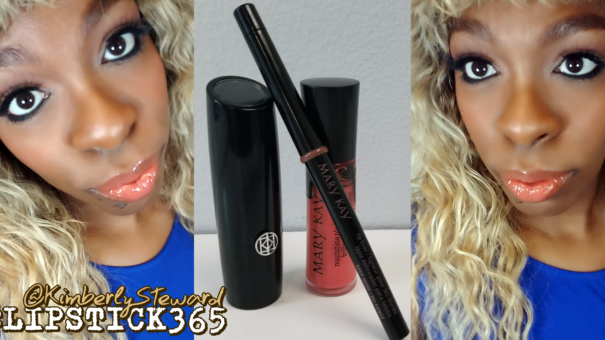 #Day7 is titled #No0d. This nude lippie and is inspired by the endless search for the perfect nude lip.
The Products:
– Mary Kay® Lip Liner | Deep Nude
– Mary Kay® Gel Semi-Matte Lipstick | Rich Truffle
– Mary Kay® NouriShine Plus® Lip Gloss | Sun Blossoms
Click here to purchase this Mary Kay Lip Bundle
(Products $45.00 + Shipping 5.75 + Tax 3.87 = $54.62)


The Steps:

First I lined my lips with Deep Nude, top and bottom, making sure to cover my natural lip line.
Next I applied Rich Truffle to my top and bottom lips, just inside the lip liner, leaving the edges still coated in Deep Nude.
Now I pressed my lips together to naturally blend.
I then put Sun Blossoms on a brush, I used a small concealer brush. With the brush, tap the lip gloss into the middle of the top and bottom lip, blending as I went.
Next, I relined my top lip for definition.
Lastly I pressed my lips together for the final blend. And and there you have it, a perfect nude!
Stay tuned to my Facebook, SnapChat, IG, Twitter and Periscope for my live Broadcasts where I go through the steps to recreate #Lipstick365.