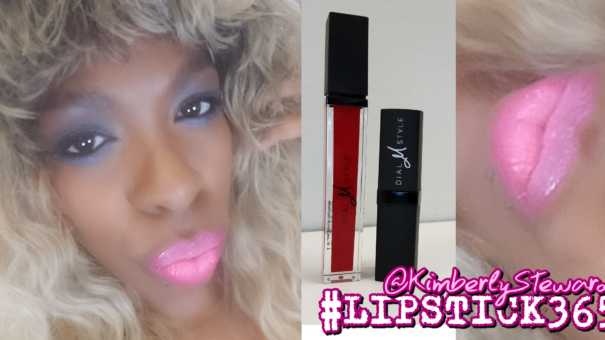 #Day6 is titled #BeMine. This Valentine's lippie and makeup is 80's inspired and reminds me of the rocker barbie JEM.
The Products:
– Dial M Style Matte Lipstick in Cherish
– Dial M Style Lip Gloss in True Red
Dial M Style Lipsticks are on sale for $10 until January 31! dialmstyle.com
*I was sick the day I needed to do the voiceover for this tutorial, so my daughter #TheCollegeKid stepped in. She is not that into makeup and was not to thrilled that I asked her to do it at first. By the end she was hooked! LOL
So, please read the step-by-step below as she left out a few details. 😉
The Steps:

First I applied Cherish to my entire lip, top and bottom, making sure to cover my natural lip line.
I pressed my lips together and made sure I covered the entire lip.
Next I applied True Red around my top and bottom lips, just slightly under and over my lip line, leaving the edges still coated in just Cherish.
Again I pressed my lips together to naturally start the blend.
I then wiped the brush from the True Red applicator and blended the Cherish on my lip line into the True Red.
Pressing my lips together helped continue this blend. And and there you have it! A blended 80's pink that is perfect for Valentine's Day!
Stay tuned to my Facebook, SnapChat, IG, Twitter and Periscope for my live Broadcasts where I go through the steps to recreate #Lipstick365.